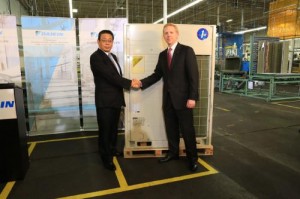 HOUSTON, Texas — Daikin North America LLC announces the launch of the new VRV IV heat pump system which is optimized for total lifecycle cost and the first VRV to be assembled in North America.
VRV heating and cooling systems are used throughout the world in commercial, industrial and residential applications.  Daikin was the first company to design and install a VRV system in Japan in1982.  From that date it has continued to set some of the highest performance standards in the HVAC industry. Until now, North American installations of VRV systems relied on imported systems.
Daikin made the announcement at the company's newly expanded residential cooling products and commercial VRV manufacturing facility. The announcement has a positive economic impact in the Houston, Texas community with the addition of over 250 jobs.
Daikin's VRV IV heat pumps have set the standard again by offering up three main attributes to further optimize the total LCC of the system: variable refrigerant temperature control, larger capacity single modules and systems and a configurator designed for simplified commissioning and servicing of the unit.
The variable refrigerant temperature auto climate adjustment technology allows the VRV IV to deliver up to a 28 percent increase in seasonal energy-efficiency operation compared to traditional VRV heat pump systems. This feature allows continuous adjustment of the VRV IV refrigerant temperature as determined by the total required heating or cooling capacity of the unit coupled with outdoor weather conditions.
The larger capacity single modules and systems allow for a more flexible design and provide the opportunity to reduce electrical requirements, piping connections and outdoor unit mounting fixtures, all of which positively impact the overall installed cost of a VRV system.
The VRV IV configurator is a software package that allows for the remote configuration of operational settings that can then be used at several installation sites. The result is less time and labor spent preparing and programing the unit settings to achieve optimal performance.  Further, this software helps to reduce the time required for ongoing maintenance of the system.  The configurator allows access to operational data and error codes, if any, using a graphical interface during routine servicing of the VRV IV units.
Daikin's VRV IV heat pump systems, assembled in Houston, will be sold through a growing network of sales associates across North America.
Photo caption: Jiro Tomita, Director and senior executive officer of Daikin Industries LTD, congratulates Sam Bickman, senior vice president operations and logistics Daikin North American LLC, on the delivery of the first VRV heat pump assembled in North America.
Photo courtesy of PRNewsFoto/Daikin North America LLC.