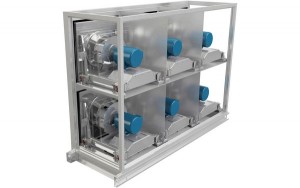 MINNEAPOLIS, Minn. – Daikin Applied's customizable air handlers now offer even more flexibility for new or existing mission critical facilities such as hospitals, laboratories and cleanrooms. In addition to forward curved, BI airfoil, single or dual belt and direct plenum fan offerings, the company now offers extensive fan array options for its indoor, outdoor and custom air handlers. Daikin's fan array options, in combination with the unique modular air handler design and two-inch cabinet variable dimensioning, provide specifying engineers with unlimited configurations for ultimate design flexibility.
The Daikin fan array incorporates a number of smaller, reduced maintenance direct-drive fans in place of a traditional large single belt-driven fan. This allows specifying engineers to right-size the motor load to the building application, delivering optimum air flow profile and enabling complete utilization of coils and unit heat exchangers. The redundancy of additional fans/motors within the array increases the reliability of the unit by providing critical uninterrupted air flow in the event of a fan/motor failure.
"As a leader in air handling unit offerings and design, Daikin Applied is committed to continually growing our Vision, Skyline and custom air handler products and capabilities. We provide engineers with ultimate design flexibility to satisfy the needs of the building owner and the contractors for the life of the unit," said Glenn Wilson PE, product marketing manager, Daikin Applied. "The fan array redundancy options provide building owners and engineers with peace of mind and also increase occupant comfort by providing lower sound levels via sound attenuating walls on all sides of the individual fan cells."
For more information about Daikin Applied's Vision, Skyline and custom air handlers with fan array options, or Daikin Applied's full line of product offerings, visit: www.DaikinApplied.com.