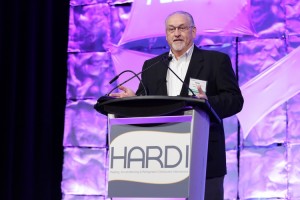 ST. LOUIS, Mo. — Heating, Air-conditioning, Refrigeration Distributors International has recognized White-Rodgers with its Conference Booth Award for participating in the organization's booth program for 50 years. HARDI also recognized a White-Rodgers employee, David Shingleton, with its annual Booster Award, which is presented to the supplier member who has made outstanding contributions to the association and HVAC industry as a whole. White-Rodgers is a business unit of Emerson and part of the Emerson Climate Technologies business segment.
According to a statement on the HARDI website, "Shingleton has been a longtime supporter of HARDI. He is a well-respected member of the HARDI family, and his contributions to the industry made him a perfect candidate to receive the 2013 Booster Award."
White-Rodgers and Shingleton received the awards in December at HARDI's 2013 Annual Conference in Phoenix, Ariz.
"I've been in this industry for 44 years, and this is just a great honor and recognition for all of those years," Shingleton said. "I was totally surprised. I deeply appreciate it."
For more information visit www.emersonclimate.com.