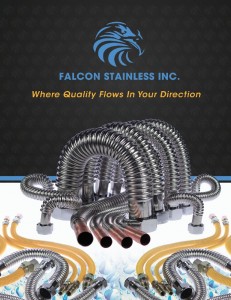 Falcon Stainless has expanded its full-port CSS connector lines and the catalog now includes 20 pages of water, gas and solar products for the water treatment, plumbing and HVAC industries. The company offers a full line of stainless steel GASFLEX, Waterflex and solar coils.
The company supplies solar coils in ½-inch OD, ¾-inch OD and 1-inch OD SS tubing with tools and fittings needed for field-fabricated connectors of any length. Teflon or EPDM is available for solar coils. All other water connectors come with washers that are hi-temp EPDM NSF listed material and are chlorine and chloramine resistant.
For more information, call Falcon 800-814-8444 or visit www.worldsbestconnectors.com.