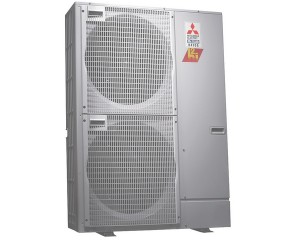 SUWANEE, Ga. — Mitsubishi Electric US Cooling & Heating Division has made enhancements to the P-Series Hyper-Heating INVERTER heat pump outdoor units for light commercial applications. Featuring exclusive H2i technology, the updated P-Series joins the most complete family of cold climate heat pumps on the market.
The H2i P-Series features higher efficiency and superior performance with improved heating capacity at very low ambient conditions, unparalleled by others in the market. Its Hot Start process guarantees warm air flow from the start, which is critical in cold climate conditions where heating performance truly counts. Additionally, the P-Series offers multiple fan speeds, and its humidity-reducing dry mode helps to combat excess moisture in rooms.
"The H2i P-Series is ideal for offices, computer rooms, retail, restaurants and schools, to name a few applications. Mitsubishi Electric's patented flash injection technology provides outstanding heating performance at extremely low ambient temperatures while keeping energy usage at the minimum while maintaining comfort," says Mark Kuntz, vice president, marketing & engineered solutions, Mitsubishi Electric US Cooling & Heating Division.
At minus 13 degrees Fahrenheit, the H2i P-Series outdoor units operate at 80 percent of rated heating capacity, improving by 10 percent compared to previous models. Additionally, the system provides 100 percent of rated heating capacity at ambient temperatures down to 5 degrees Fahrenheit; at minus 4 degrees Fahrenheit, the system maintains operation at an impressive 87 percent of rated heating capacity.
With the H2i P-Series, users can benefit from comfortable air temperatures from their indoor units right away. At start-up, a special circuit quickly delivers refrigerant to the air-conditioning cycle, which rapidly increases the mass flow rate in the system. In many cases, the Hyper-Heating technology eliminates the need for a separate heating product, saving installation time and dramatically improving energy efficiency.
Featuring high reliability and rugged construction, the H2i P-Series heat pumps offer a variety of features designed to take the worry out of temperature control such as automatic restart in the case of power outages and automatic cool/heat changeover. The P-Series models are compatible with a variety of styles of indoor units, including wall-mounted, ceiling-suspended, ceiling-cassette and ceiling-concealed ducted indoor units, making for a wide range of installation possibilities.
Two H2i PUZ-HA models are available to deliver from 30,000 to 36,000 Btu/h cooling capacity and 32,000 to 38,000 Btu/h heating capacity. The outdoor unit operates quietly at 52 dB(A) in cooling and 53 dB(A) in heating and features long line-length capabilities of up to 245 feet for expanded application possibilities.
To learn more about Mitsubishi Electric US Cooling & Heating Division, click here.