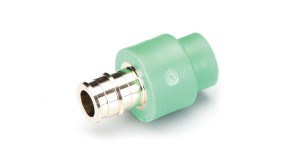 LINDON, Utah — Aquatherm's polypropylene-random piping systems, which are increasingly being used in a variety of PHVAC applications, feature a new PEX compression adapter made of PP-R and lead-free brass. This adapter allows installers to easily transition between Aquatherm and PEX in potable water and radiant systems.
Aquatherm's new PEX adapter is entirely zero lead and manufactured to ASTM F1960. A new male-end design allows installers to fuse directly into fusion outlets, making it quicker and easier to install. The PEX adapter is available in ½-inch, ¾-inch and 1-inch diameters.
Unlike the existing Aquatherm PEX crimp adapter, which has a socket connection and requires fusion to pipe, the new compression adapter has a street connection that can be welded directly into an Aquatherm fitting, providing greater ease of use. It uses an expander ring and clamp connection.
Aquatherm can be used as the main distribution pipe and transition to PEX as needed. The PP-R portion of the adapter is made from the same material as Aquatherm Green Pipe and is attached to the zero-lead brass portion.
"PEX is widely used because of its simplicity and it definitely has its place in the market, which is why we created another transition between it and Aquatherm," said Adam Clark, Aquatherm president and chief operating officer. "As Aquatherm continues to take its place in the market, we want to make it easy for everyone to integrate it into their piping systems no matter what type of PEX they use."
All Aquatherm systems are connected via heat fusion – which creates monolithic connections that last a lifetime and eliminate toxic materials, glues and resins and open flames from piping installations.