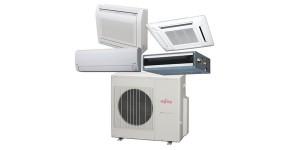 Fujitsu General America now offers 56,259 combinations to achieve greater "mix-and-match" flexibility for its Halcyon light commercial multi-zone heat pump line.
Halcyon multi-zone equipment offers ultra-high efficiency – with ratings of up to 18 SEER and 9.5 HSPF – quiet, reliable operation and sleek design. Contractors can select either 18,000  24,000, 36,000 or 48,000 Btu/hr outdoor units combined with wall-mounted, floor mounted, slim duct and compact cassette indoor units in 7,000, 9,000, 12,000, 15,000, 18,000, or 24,000 Btu/hr, depending on indoor style selected.
New to the lineup in 2014 is the addition of floor mount units in 9,000, 12,000 and 15,000 Btu/hr. These small (less than 24-inch high and 30-inch wide) indoor units were developed specifically for residential and light commercial retrofit applications, ideally to replace standing radiators or any space with limited upper wall space, like a kitchen or sunroom.
Also new in 2014 is the addition of 7,000 Btu/hr compact cassette and slim duct models to the multi-zone lineup. Mix-and-match flexibility of evaporator (air handler) type and capacity allows installers to choose the indoor unit that best fits the application.