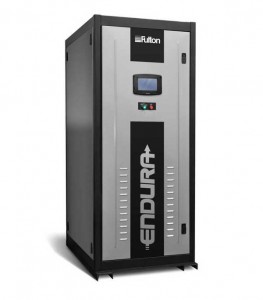 PULASKI, N.Y. — Fulton Companies has expanded its condensing hydronic boiler offering. The Endura boiler is now available in 750,000 (EDR-750) and 1,000,000 (EDR-1000) Btu/hr model sizes. Released in 2013, Fulton previously offered the Endura in 1,500,000 (EDR-1500) and 2,000,000 (EDR-2000) Btu/hr sizes.
Endura condensing hyrdronic boilers feature a high quality, duplex stainless steel, three-pass heat exchanger with enhanced fireside surfaces and up to 12:1 turndown capabilities.
The entire Endura product line carries Air-Conditioning, Heating, and Refrigeration Institute certification. The EDR-750 model size is certified at 97.1 percent efficiency, the EDR-1000 is certified at 95.3 percent efficiency, the EDR-1500 is certified at 93.5 percent efficiency and the EDR-2000 is certified at 93.7 percent efficiency.
The Endura provides commercial heating customers with a premium option in these size ranges regarding product design, performance and flexibility in applications.
Endura offers less than 20 ppm NOx emissions, full input with 4-inch water column incoming natural gas pressure, and 120V single phase power supply.
"Our initial release of the Endura product line matched a significant portion of the condensing boiler market requirements in North America," said Joel Southwell, director of commercial heating products at Fulton. "It is very important for us to continually develop and expand our Btu size ranges to meet both smaller and larger Btu condensing boiler projects."
The Endura boiler is also equipped with a color touch-screen display with extensive capabilities, including Building Management System communication and integrated sequencing for up to eight boilers.
Endura maintains Fulton's fundamental design approach to provide simple installation, serviceability and maintenance, including removable latched panels and flexible arrangements for installation. There are no minimum water temperature requirements, and no dedicated circulator pumps, flow switches or temperature controls valves required.
For additional information about Fulton and its products, visit www.fulton.com.