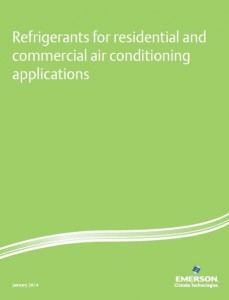 ST. LOUIS, Mo. — HVAC professionals can gain insight into the environmental and regulatory issues regarding refrigerants used in residential and commercial air conditioning systems with an updated white paper from Emerson Climate Technologies, Inc., a business of Emerson.
The white paper, available at emersonclimate.com/refrigerants, reviews environmental drivers, discusses regulations and timing, examines refrigerant choices and looks at the future direction of refrigerants for air conditioning systems.
The white paper looks at several issues in the refrigerant discussion, including the consideration of global warming potential of refrigerants and the balance of the indirect global warming issues of efficiency and power usage.
"Global sustainability requires the HVAC industry to focus on the real environmental issues of refrigerant containment and energy efficiency," said white paper contributor Ken Monnier, vice president of engineering for the Air Conditioning business of Emerson Climate Technologies. "By committing to the design of more energy-efficient systems, the industry will significantly improve the environmental impact of air conditioning products."
The white paper touches on the new AHRI Alternative Refrigerants Evaluation Program, in which Emerson has participated. The AREP program provides data-driven insights for potential future refrigerants that have significantly lower direct global warming potential. In the white paper, Emerson also discusses Total Equivalent Warming Impact and Life Cycle Climate Performance, concepts that evaluate refrigerants based on direct and indirect global warming impact.
For more information, visit emersonclimate.com/refrigerants.