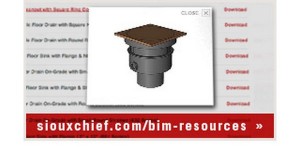 KANSAS CITY, Mo. — Sioux Chief has expanded its offering of Revit files for use with Building Information Modeling ready for download on the Sioux Chief website. BIM is vital for the planning and design process of building construction, allowing information to be calculated with exact figures tied to certain products.
Sioux Chief's BIM models are viewable on the Sioux Chief Resources Page.
While BIM is often understood for its three-dimensional and geometric characteristics, its inherent value is in the joining up of information.
As the construction industry continues to develop the concept of supply chains, as has been done in many other industries, Sioux Chief's BIM models allow designers and contractors to view their supply chains from a more innovative viewpoint.
"We're trying to help designers and contractors rethink how rough plumbing products can be specified for buildings that are designed, assembled and operated a whole new way." said Vice President of Product Development Rex Baer.
With rough plumbing products delivered as BIM models, contractors can begin to develop supply chains in a digital format and make decisions based on how their installations relate to other building components. This way, important product selection criteria are not overlooked.
Sioux Chief is committed to adding essential BIM content and will continue to do so as needed. Mechanical engineers are invited to check the website regularly for newly added content. Any suggested file additions can be routed through Sioux Chief inside sales.
In addition, an ever-growing list of specification sheets is available on the Sioux Chief Spec Sheets Page.