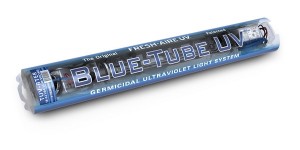 The Blue Tube UV germicidal light system has become the first HVAC industry product to win the prestigious Ameristar Award for packaging design, according to the Institute of Packaging Professionals, which has hosted the annual competition for more than 25 years.
Fresh-Aire UV, Jupiter, Florida, which manufactures the Blue Tube UV and other residential/commercial UV light systems for HVAC applications, received the award at a June 10 ceremony held during the 2014 EastPack packaging trade exposition in New York. Fresh-Aire UV's win is even more impressive considering that Ameristar Award winners are typically Fortune 500 consumer product corporations with multi-million dollar packaging campaigns. "We've never had an HVAC industry member win an Ameristar Award," said Carole Schiller, events manager, IoPP, a Naperville, Illinois-based packaging industry trade association that judges the packaging entries on vision, leadership, differentiation, savings and growth.
Designed by Plastics Ingenuity in Cross Plains, Wisconsin, the Blue Tube UV packaging is a 27-inch-long, elliptically shaped, clear polyethylene terephthalate thermoformed tube featuring bold, blue-colored frontal graphics that reinforce brand recognition. The back panel features detailed graphical explanations of the system's importance for disinfecting airborne and interior surface biological contaminants in HVAC systems for optimal indoor air quality.
"The packaging's aesthetics and design offers HVAC wholesalers multiple display merchandising possibilities, while service technicians can use the back panel's UV information to enhance their sales presentations to homeowners," said Chris Willette, president/founder of Fresh-Aire UV's parent company. Willette is also the inventor of the Blue Tube UV, which is the HVAC industry's best-selling UV light system.
The recyclable packaging, which gives a clear unobstructed view of the product inside, offers more than just aesthetics. Compared to Blue Tube UV's former packaging, the new design generates an inbound freight savings of 70 percent and a 70 percent reduction of warehousing space due to PI's innovative nesting strategy.
The package requires only a five-minute assembly and product loading time, which is a 50 percent labor reduction compared to former packaging. The flat sheet can be quickly rotated 180 degrees, snapped together and readied to receive the secure, tamper-resistant end caps that easily click into place. This is a significant improvement to the prior methods' time-consuming taping and stapling by hand. The end caps perform double duty as a free-standing base or a peg-hook, hang tab for massing together in wholesale merchandising displays.
The end caps and internal bellows in the 3.5-inch-diameter tube also serve as crush-resistant protection. More than 5,000 of the new Blue Tube UV units have already been shipped with reports of zero damage returns.
The Ameristar Award now qualifies the Blue Tube UV packaging design for worldwide recognition and entry in the international WorldStar Packaging Awards sponsored by the World Packaging Organisation next year in Milan, Italy.
For more information on Fresh-Aire UV and its full line of commercial and residential UVGI, APCO and other IAQ products, visit www.freshaireuv.com or call 800-741-1195.