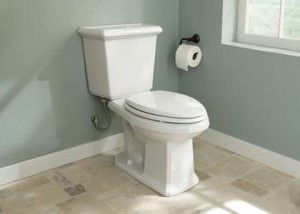 WOODRIDGE, Ill. –- Gerber Plumbing Fixtures has added a dual-flush toilet to its popular Logan Square Collection.
The dual-flush, high-efficiency, two-piece toilet features two buttons on the top of the tank to dictate the flush rate–one flushing 1.1 gallons per flush for liquid and one flushing 1.6 gpf for solid. This high-efficiency toilet is WaterSense certified for its contributions to water conservation. With that certification comes recognition for high performance, even at a lower flush volume.
In addition to its flushing flexibility, the Logan Square Dual Flush toilet has an elongated rim for comfort and a fully glazed trapway to ensure high performance.
The Logan Square Suite was designed to bring a beautiful, consistent design style to a bathroom–making it easy for industry professionals and homeowners to carry the look throughout the entire room. In addition to the new dual flush toilet, the suite offers an under-counter sink, a pedestal sink, a 1.28 gpf toilet configuration and several matching faucet styles available through Gerber's sister company, Danze.
The new dual flush toilet is available in white and biscuit. In addition to the standard model, Gerber offers an ErgoHeightbowl that is ADA compliant. Both options are installed with a 12-inch rough-in.
For more information on the Logan Square Suite or other Gerber products, visit www.gerberonline.com or call 886-538-5536.