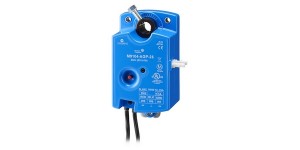 MILWAUKEE, Wis. — Johnson Controls expands its line of low torque actuators for the HVAC/refrigeration industry with two new models designed to reduce installation costs.
M9104-AGP(pictured here) includes a differential pressure sensor for exhaust or dual duct VAV applications. It provides high-accuracy flow measurement and reduces installation costs by self-detecting positive or negative pressure on the VAV box.
M9104-IUA features line voltage floating controls. Where codes permit, it can be mounted on dampers or valves avoiding the need for transformers.