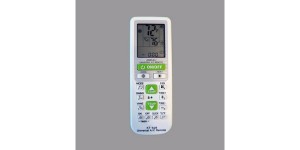 HOLLYWOOD, Fla. — SoLRus Marketing announces the availability of a new universal series model N628 wireless remote control for air conditioners and mini-split heating and cooling systems. It can replace damaged, lost, broken or defective wireless hand-held remote controls for most of the ductless mini-split systems in the world market today.
The potential need for a replacement remote control continues to increase, and locating the exact match can be difficult and time consuming, provided it even still exists. This new universal remote replaces over 2000 codes from different "world famous" brands of air conditioners. The packaging includes a detailed list of global brand manufacturer codes and includes complete, easy programming instructions. If a code is not readily available, it enables an auto-search method by pointing directly to the air conditioner, programming similar to a universal TV remote control.
Features include an intuitive user interface with a large multi-function LCD screen and various menu and timer/clock control functions. A large room-temperature display is constantly in view, along with fan options that include automatic, manual or normal fan modes with louver direction and sweep function. It also has a button to switch from Fahrenheit to centigrade scale and uses standard AAA batteries.