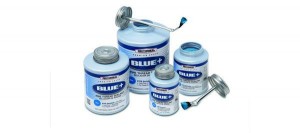 RectorSeal Corp. introduces RectorSeal Blue+, a non-setting, multi-purpose, lead-free, blue-colored pipe thread sealant approved for use with multiple plumbing and HVAC/R residential, commercial and industrial applications. Blue+ is unrestricted for use with all threaded metal, polyethylene, fiberglass reinforced, PVC, CPVC and ABS pipe.
Blue+ features a smooth, easily brushed texture with polytetrafluoroethylene resin-enrichment and synthetic fibers providing maximum sealing and lubrication performance. Unlike other blue-thread sealants, the patented Blue+ formula doesn't separate during storage due to a unique technology that homogenously suspends the compound's particles. Blue+ was developed by RectorSeal's in-house laboratory chemists and monitored under strict quality control standards to ensure chemical compatibility with Lubrizol Corp's FlowGuard Gold, BlazeMaster and Corzan pipe and fittings.
Blue+ is manufactured in the USA and formulated for pressures up to 10,000-psi (liquids) and 2,000-psi (gases). It's available through plumbing and HVAC/R wholesalers in ¼-pint brush top cans, ½-pint brush top cans, 1-pint brush top cans, quarts with brushes and 1-gallon cans.
Other Blue+ features are:
Meets lead-free potable water requirements of the U.S. Safe Drinking Water Act in the NSF/ANSI Standard 61, Annex G and also the Canadian Standards Association
Approved for use on all metal pipe including galvanized steel, iron, brass, copper, aluminum and stainless steel
Is a non-toxic, low odor, non-flammable compound perfect for working in small or non-ventilated spaces
Is non-hardening, requires no curing time and can be pressurized immediately after applying
Works with both hot and cold potable water systems
Has a guaranteed minimum two-year shelf life
For additional information, call 800-231-3345 or visit www.rectorseal.com.