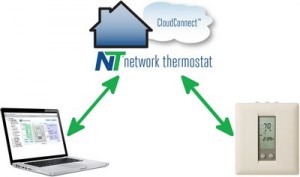 GRAPEVINE, Texas – NetworkThermostat announces the CloudConnect service for its Net/XWi-Fi and Ethernet smart thermostats. In keeping with customer demands for simple connectivity and remote access, the CloudConnect service allows Net/X users the convenience of remote access using the Internet 'cloud' with no limits on the number of thermostats or locations under the user's management. CloudConnect is even smart enough to adjust the user interface to match the device being used—desktop, tablet or smartphone.
Net/X's exclusive DirectConnect method allows users to make a direct connection to the thermostats from anywhere on site or remotely, with no need for a 'cloud'. NetworkThermostat's approach to smart thermostats integrates all of the web pages, schedules, date and time settings, alerts, passwords, network settings and notification destinations directly into the thermostat.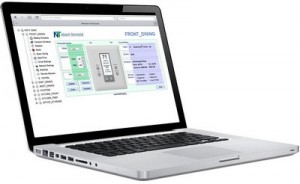 All UP32/RP32 thermostats control conventional Gas/Electric (2H/2C) and Heat Pump (3H/2C) systems and the UP32H/RP32H can also manage humidifiers/dehumidifiers and/or fresh air dampers. The UP32x also supports auxiliary inputs and sensors. All thermostat platforms support up to four email and text message destinations for sending reminders and condition alerts to both customer and service personnel.
These products are available through an ever-growing network of online retailers, HVAC distributors and contractors. Detailed information on this product and NetworkThermostat's industry-leading network solutions can be found at http://www.networkthermostat.com or call 866-563-0711.