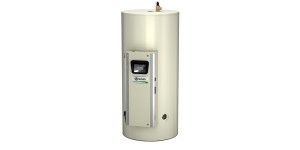 ASHLAND CITY, Tenn. — A.O. Smith introduces the custom Xi DSE Commercial Water Heater Series with advanced electronic control is available with storage capacities from 5 to 119 gallons. With various input options from as low as 3 kW to as high as 90 kW (on 50 through 119 gallon models), the Custom Xi Series is built with high-demand industrial applications in mind.
With a multitude of options, the DSE can be custom built/designed to meet any special needs or design specification. It comes with advanced electronic control and is iCOMM compatable.  iCOMM utilizes the latest technology in commercial water heating that allows us to interact with, proactively manage and monitor your A. O. Smith water heaters for you and lets you access current and historical water heater data.
Want to make sure your water heater lasts longer? The DSE models use a unique combination of a conventional magnesium anode and a European-style powered anode. The powered anode is self-adjusting to water conditions and does not require maintenance or inspection. It also provides longer-lasting tank protection in hard-to-reach areas. This multi-anode system provides superior anodic protection to hidden surfaces of the tank. The Xi DSE also has A.O. Smith's PermaGlas coating, which provides superior protection against corrosion and is bonded to all inner tank surfaces at 1600 F.
For more information, click here.