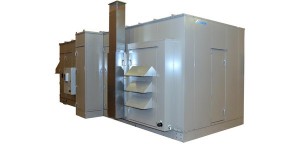 MINNEAPOLIS, Minn. — Daikin Applied has added natural gas heating as an option to its popular Skyline commercial outdoor air handler line. The gas heat option provides lower operating cost and increased energy-saving solutions for building owners and facility managers, while maximizing HVAC system performance.
"Natural gas is an optimal solution for many areas of the United States where natural gas prices are significantly lower than other heating options," said Glenn Wilson, air handler product planning manager at Daikin Applied. "Schools and office buildings in these markets are well suited for a Skyline outdoor air handler heated by natural gas. It's a perfect solution for reducing energy costs, increasing efficiency and improving HVAC system performance without additional construction or drastic renovation."
Compared to traditional sources of heating, such as central plant boilers with hot water, steam coils or electric resistance heating installed inside air handlers, the Skyline natural gas unit is an economically appealing source of heat. The unit is ideal for new construction and retrofits of buildings without a central boiler plant, or where water piping would be cost prohibitive. Unit installation requires only a single-point gas line connection and a controller, making the air handler virtually a "plug-and-play" unit which provides fast and easy installation.
"Natural gas has been a heating option for Daikin Applied packaged products for more than 40 years and we've designed it to the highest levels of quality and durability," said Wilson. "By making natural gas available for standalone Skyline units, we're providing building managers with ways to implement proven technology, easy design and specification and a lower cost of ownership without adding complexity to their system. We're giving them all the reward without the risk."
Airtight and weather tight, Skyline outdoor air handlers can withstand harsh weather conditions. Daikin Applied's patented, gasketed frame channel, double-wall, injected-foam panels and crossbroken top panels help keep conditioned air inside the cabinet and the elements outside.
Skyline's natural gas heat option features include:
Burner controller maintains 80 percent for higher efficiency throughout the operating range, minimizing liquid condensation on the roof
Low air-side pressure drops to keep fan energy consumption at a minimum
Closed-loop control sensors monitor current air and fuel flow rates
Variable fan seep and fuel flow optimizes air/fuel ration at all times
Onboard controls system with trouble-shooting LED enable quick service diagnostics
Auto compensation control for blocked vent conditions, high winds and high-altitude installations
Burner components are easily accessible for uncomplicated servicing
For more information, visit http://www.daikinapplied.com/air-handlers.php.