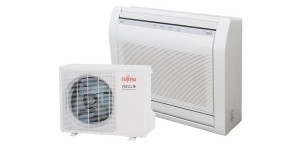 Fujitsu General America introduced two new lines of high-efficiency, floor-mounted mini-split heat pump systems with heating that operates at ambient temperatures as low as -15 F (RLFFH line), or -5 F (RLFF line). Efficiency ratings are as high as 26 SEER.
The small indoor units were developed specifically for residential and light commercial retrofit applications, ideally to replace standing radiators or any space with limited upper wall space like a kitchen or sunroom. They are less than 24 inches high and 30 inches wide.
Systems are available in 9, 12 or 15,000 Btu single-zone models or in multi-zone configurations. Heating capacity at low outdoor temperatures is achieved through the use of a large heat exchanger and a high-capacity compressor. RLFFH systems are equipped with a base heater that prevents condensate from freezing and features a cultivated base design that discharges melted water through many holes. All systems provide wide, two-fan airflow. The upper and lower airflow quickly conditions an entire room.
Standard features also include a designer wireless remote control and a host of different operating modes. All systems are Energy Star qualified and meet 2014 "Most Efficient" standards.