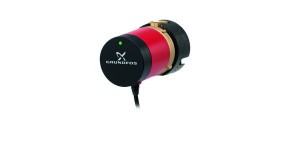 DOWNERS GROVE, Ill. Now available for sale in the United States, Canada and Mexico, Grundfos' COMFORT PM AUTO range sets the standard for intelligent and energy-efficient hot water recirculation, eliminating the wait for hot water at showerheads and sink taps.
Compared with conventional pumps that run continuously, the COMFORT PM AUTO is capable of reducing energy costs by as much as 96 percent thanks to the innovative AUTOADAPT feature, which ensures that the pump runs only when required.
"The adaptive intelligence of AUTOADAPT significantly reduces energy consumption, making it a simple way to make your home more eco-friendly without sacrificing personal comfort," said Terry Teach, business development director for Grundfos Domestic Buildings.
The COMFORT PM AUTO features three operating modes. In addition to AUTOADAPT, which learns the household's consumption patterns and then adapts to it, the pump also has temperature mode to keep the water temperature within an automatically detected range and 100 percent mode to allow the pump to run constantly at full speed.
For basic needs, Grundfos also offers the COMFORT PM model, which is available with 100 percent mode. Both the COMFORT PM and COMFORT PM AUTO are compact, easily installed, provide silent operation and save as much as 12,000 gallons of water per year.
The COMFORT PM and COMFORT PM AUTO are in stock and available for sale. For more information, visit www.grundfos.us/comfortpm.