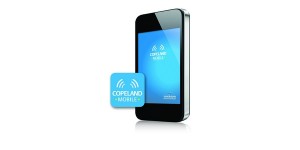 ST. LOUIS, Mo. — On-the-go HVACR professionals now have access to the popular Online Product Information database for Copeland compressors from Emerson Climate Technologies, Inc., a business of Emerson. The new Copeland Mobile application provides access to both air conditioning and refrigeration products used in a variety of HVACR applications.
"Our OPI database has been a valued resource for HVACR professionals for several years. We are now able to offer this information in a mobile app that will provide easy access to more than 30 years of Copeland compressor product information," said Scott Lanzer, marketing manager – digital services for Emerson Climate Technologies Air Conditioning business. "We didn't just turn the database into an app. We created a new way to access Copeland compressor product information, including features such as auto-fill model recommendations and a live chat help function that will make the OPI database even more convenient and useful to customers."
Additional features of the free Copeland Mobile app include:
WebApp – instant updates via Online Product Information database
Full parts, accessories and bill-of-materials listings
Complete air conditioning and refrigeration compressor model information
Electrical wiring diagrams
Compressor diagnostics
Replacement model cross reference
Metric and imperial units conversion
HVACR professionals who already use Emerson's OPI database can log in to the app using their existing username and password. To use the Copeland Mobile app, simply start by logging in with your current OPI username and password or register for a new OPI account through the app. Next, enter at least 5 characters in the compressor model nomenclature to activate an auto-fill recommendation listing for model selection. Once a model and application are selected, choose from a variety of options within the home menu screen to search for information pertaining to that specific model.
Information on this and other Emerson Climate Technologies mobile applications is available at www.EmersonClimate.com/mobileapps.