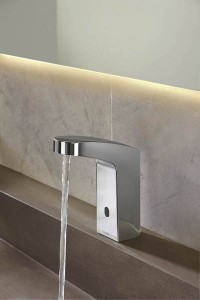 NORTH OLMSTED, Ohio — Combining additional style options with optimal hygiene protection, Moen Commercial's M•Power line of sensor-operated faucets has expanded to include new modern and transitional-styled models, with looks that fit with any design preference. These hands-free faucets are suitable for any high-traffic commercial spaces, especially healthcare and education buildings where prevention of disease transmission is of heightened importance.
"We know aesthetics and the overall design of commercial facilities are becoming more important to facility managers, building owners and operators," said Karen Folmer, director of marketing and new product development, Moen Commercial. "In order to provide the right style options to meet their needs, we consulted with professional interior designers and architects when creating the new models for our M•Power faucet line. With additional style options and features, we now have a complete portfolio of thoughtfully designed sensor-operated faucets."
The sensor-operation of M•Power faucets deliver flawless reliability to start and stop the flow of water, which translates to water savings when compared to manual lavatory faucets. Plus, its heavy-duty, all-metal construction, vandal-resistant features and chrome finish is backed by a best-in-class five-year warranty*.
M•Power faucets offer exceptional water savings and optimal hygiene protection. The updated models feature:
Sentinel Flow option to purge the waterway 24 hours from last use and a Cleaning Mode that enables temporary sensor deactivation for cleaning and maintenance.
Laminar flow kits are available for increased sanitary protection; ideal for applications in environments such as healthcare where air can carry bacteria and legionella.
Optional temperature mixing lever is available on some models, allowing facilities to custom set its flowing water temperature. The lever also serves as a manual override for the sensor.
There's no need to purchase specialty batteries; the ADA-compliant M•Power sensor-operated faucets use standard AA batteries, with a battery life up to six years or approximately 350,000 cycles**.
The faucets can be converted from battery to AC power, or the reverse, with a few simple steps.
The above-deck design offers easy maintenance and simplified installation: a two piece body offers convenient access to the battery pack and faucet mechanics for faster, easier repairs – translating to lower maintenance costs and less operational down time for restrooms.
For more information about Moen Commercial's M•Power electronic faucets, visit moencommercial.com or call 1-800-BUY-MOEN.
*For complete warranty information, visit moen.com.
**Commercial usage varies with installation location. Typical battery life at 200 uses per day is three years.