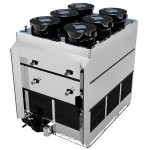 WAYNESBORO, Pa. — Johnson Controls has added the ECOSS stainless steel evaporative condenser to its Frick line of industrial refrigeration solutions. The unit is designed to combat problems from changes in water treatment chemistry that can lead to white rust, corrosion and decreased product life in conventional galvanized steel condensers.
Stainless steel construction has other advantages throughout condenser installation, operation and maintenance. It is lighter than galvanized steel, so roofs and mounting platforms do not have to be built with the same load-bearing capacity. Stainless steel inherently resists scale formation, so that units require less cleaning and passivation downtime. The ECOSS evaporative condenser also incorporates many of Frick's leading-edge technologies such as direct and variable speed drive fan options for reduced energy use.
Originally designed for remote applications without adequate water treatment facilities, the ECOSS evaporative condenser has been proven to deliver twice the average lifespan of conventional galvanized evaporative condensers – with total lifetime savings of up to 70 percent.
Michael Colley, product manager, Industrial Refrigeration, Johnson Controls, said the ECOSS unit is ideally suited for use in the North American food and beverage market.
"In a market where profit margins are extremely tight, architects and facilities managers constantly look for anything that can reduce costs," he said. "The reduced operating costs, lower maintenance requirements and payback of the ECOSS stainless steel evaporative condenser deliver significant bottom line results across the test of time."
For more information about the new ECOSS stainless steel evaporative condenser, visit www.johnsoncontrols.com/frick.