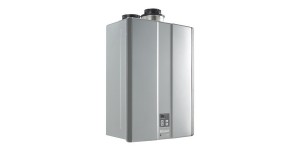 PEACHTREE CITY, Ga. – Rinnai has introduced the first tankless water heater in the industry that allows for both concentric or twin-pipe PVC venting from the same unit. These new Ultra Series condensing tankless water heater models RUC98i and RUC80i feature a built-in system that allows maximum flexibility for installers and dealers, who can now know that the unit they've specified or have on hand will be compatible with whichever venting installation is preferred or required when they arrive on the jobsite.
"As the only tankless water heater manufacturer to offer this level of product versatility, Rinnai is committed to supporting our customers and their preferred installation methods. From one project to the next, the freedom of choice and flexibility is yours," said Jim Vaccaro, product manager. "Simply put, Rinnai offers more venting options right out of the box."
For concentric venting, installers simply remove and discard the exhaust adapter ring. For twin-pipe PVC configurations, the intake cap is removed and discarded. With the twin pipe option, the installer can use three- or four-inch PVC/CPVC pipe for the intake and exhaust.
The RUC98i and RUC80i will be available for purchase through Rinnai wholesale distribution in mid-October. For more information, visit http://www.rinnai.us/tankless-water-heater.