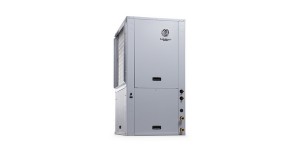 FORT WAYNE, Ind. — WaterFurnace International, Inc. introduces the 3 Series 300A11 geothermal heat pump, offering efficiencies up to 22.3 EER and 4.1 COP.
The 3 Series features Copeland UltraTech two-stage scroll compressors and five-speed ECM blowers for high efficiency and quiet operation. The 3 Series 300A11 is WaterFurnace's first residential unit to come standard with durable all-aluminum air coils for corrosion protection and extended system life.
"The 3 Series was designed to balance value and performance, thanks to technology that's been refined through more than 30 years of research, engineering advancements and manufacturing experience," said Tim Litton, director of marketing communications, WaterFurnace International, Inc. "It is a great complement to our 5 Series and 7 Series geothermal heat pumps, giving homeowners another highly efficient option at a lower price."
The 3 Series can be used in conjunction with WaterFurnace's IntelliZone2 24 volt zoning system to precisely control the temperature in up to four zones for the ultimate in comfort. An optional soft starter – IntelliStart – reduces start-up amperage by up to 60 percent of normal draw and reduces noise, eliminates light flicker and increases compressor life.
WaterFurnace's Aurora communicating controls platform provides simple setup, troubleshooting and diagnosis. Additionally, WaterFurnace's Aurora Interface Diagnostic tool simplifies service and diagnostics for contractors, thanks to its external communication port.
All models are ENERGY STAR rated and utilize ozone-safe R410A refrigerant that meets stringent EPA requirements.
To learn more, visit the WaterFurnace at www.waterfurnace.com.