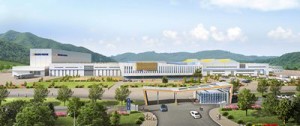 IRVINE, Calif. — Navien announced it will expand its product line in the U.S. and Canada in the fourth quarter when they begin selling the Navien Heating Boiler series.
Ideal for residential and light commercial use, the NHB builds on Navien's recent successful product lines. The Navien Heating Boiler will be offered in four sizes: NHB-55, NHB-80, NHB 110 and NHB-50 with turn-down-ratios respectively of 7:1, 10:1, 11:1 and 15:1. The noteworthy 15:1 TDR in the NHB-50 is achieved with Navien's advanced burner system. One key component to that efficiency is the newly developed dual Venturi gas delivery system.
"Our New NHB heating boiler product will be much more than just another high-efficiency condensing wall hung boiler added to the wide selection of boiler choices for contractors and homeowners," said Brian Fenske, specialty channel sales manager for Navien. "Yes, we will have 95 percent AFUE, outdoor reset as required and a few other similar operational features like the other brand choices available, but then so much more."
The NHB will offer industry-leading options and features in the boiler operation parameters such as:
Largest industry turndown ratios providing ease of installation with multiple smaller zones while maintaining high operational efficiencies
Timed hydronic supply water boost feature
Adjustable heat capacity
Adjustable anti-cycle timer
Freeze protection
Adjustable Delta T ranges
Pressure LWCO with manual reset
Adjustable minimum burner time setting
Adjustable turndown ratio timing and many more
"There are almost too many features to list. This product offers the installer an opportunity to achieve a true high-efficiency installation," says Fenske.
For more information, visit www.navien.com.