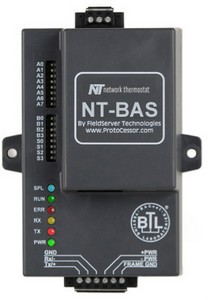 GRAPEVINE, Texas — NetworkThermostat announced the availability of the NT-BAS for Net/X wired Ethernet and wireless Wi-Fi energy management systems. The NT-BAS connects directly to any internet access point and converts the Net/X Wi-Fi and Ethernet information to BACnet/IP. The system comes ready to support up to 40 thermostats out of the box. This allows the user to control and monitor the Net/X network from any building automation system capable of communicating over BACnet MSTP/IP, Modbus RTU/TCP or Metasys N2 protocols. Use the onboard dip switches to set baud rate and select desired communications protocol. The NT-BAS includes two standard RS-485 ports, RJ45 jack for 10/100 Mbps Ethernet and can be powered from any 9Vdc to 30Vdc or 12Vac to 24Vac power source. Mounting tabs allow for simple wall-mount installation.
Commercial facilities can start managing their HVAC systems and saving energy dollars using programmable wired-Ethernet or wireless-Wi-Fi platforms to schedule and manage HVAC systems. As the facility continues to expand and the need for lighting control, access control and event management becomes a requirement, the investment in the Net/X HVAC system is safe. Simply add a NT-BAS to the existing Net/X system for simple integration with the BAS system of choice. NetworkThermostat integrates seamlessly with expansion decisions.
The NT-BAS includes flexible point mapping for each Net/X device. When integrating with the Net/X Wi-Fi or Ethernet solutions, it's as simple as plugging the NT-BAS into an Ethernet hub, switch or router, entering the IP addresses and logging in information for the thermostats, choosing the desired data points and connecting to the BAS via Ethernet. Also, the UP32 and RP32 Ethernet and Wi-Fi systems include a Net/X exclusive BAS system failsafe override. This feature will allow the BAS system to control the HVAC units unless the UP32/RP32 does not receive a "BACnet active" response, whereby the UP32/RP32 resumes as the primary HVAC scheduler and runs the HVAC systems according to user-configured schedules.
Capable of supporting up to 40 thermostats, the BTL-certified NT-BAS gateway includes standard objects (i.e., points or data points) such as Analog Inputs, Binary Inputs, Analog Outputs, Binary Outputs, Analog Variables and Binary Variables. The flexible NetworkThermostat energy management platform allows for thermostat BACnet control from a local area network or from anywhere with internet access. As with all Net/X products, there's no need for a cloud service and there are no associated fees.
The NT-BAS has been developed in conjunction with FieldServer Technologies using NetworkThermostat's open API. The open API allows software developers and hardware integrators the ability to quickly and seamlessly integrate the Net/X system into other control and automation platforms. FieldServer specializes in building automation and facility management systems. With FieldServer automation systems, end users receive complete control over HVAC, lighting, access, security and water systems to allow facility owners to save tremendous amounts of money and energy.
The product is available through an ever-growing network of online retailers, HVAC distributors and contractors. For more information, visit http://www.networkthermostat.com.