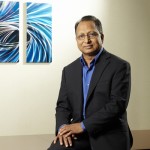 DAYTON, Ohio — Rajan Rajendran has been promoted to vice president, System Innovation Center and Sustainability, with Emerson Climate Technologies, a business segment of Emerson. In this role, Rajendran will be responsible for overseeing the new Emerson Innovation Center, also referred to as "The Helix," through its development, construction and launch phases, as well as for leading operations after the center opens on the University of Dayton campus in late 2015.
"We're excited to complete The Helix facility project, which brings together specialized research areas all under one roof to create new technologies that address heating, ventilation, air conditioning and refrigeration industry challenges," said Bill Bosway, group vice president at Emerson Climate Technologies. "Rajan Rajendran's research and engineering expertise and passion for innovation make him well suited for his new role driving the completion and operations of this new innovation center."
Since joining Emerson Climate Technologies in 1990, Rajendran has held several leadership roles within the company. Most recently, he was vice president engineering services and sustainability, in which he helped build Emerson Climate's Refrigeration Application Engineering organization, evolved the Design Services business and managed global sustainability initiatives. Additionally, Rajendran helped establish Emerson Climate's global engineering presence in India and China. He also chaired the Customer Care group at Emerson Climate, establishing customer service focused training and programs.
Rajendran serves on several HVACR industry committees, including the Air Conditioning, Heating, and Refrigeration Institute's Low GWP Alternative Refrigerants Evaluation Program Task Force, and participates in Underwriters Laboratories' Working Groups for A2L Refrigerants. In addition, he is a member of the systems steering committee at AHRI.
Rajendran has a bachelor's degree in mechanical engineering from the University of Madras India, and earned his master's degree and a doctorate in mechanical engineering from Iowa State University. He also has a master's degree in business administration from Wright State University.