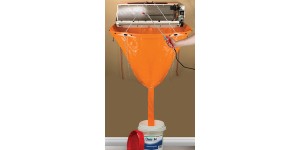 RectorSeal Corp. introduces the Desolv Cleaning Kit, the industry's quickest and most convenient kit for the cleaning and post cleanup of all ductless mini-split air conditioner evaporator coils and blower fan blades.
The Desolv Cleaning Kit features a patent-pending collapsible, pliable two-inch-wide plastic framework with drawstrings for tightening around any mini-split brand evaporator encasement up to 45-inches wide. Two heavy-duty funnel-shaped, 45-inch-by-2-inch-wide orange plastic collection bags are designed with perforations for hooking onto the framework's hang knobs and a pliable plastic splashguard for wall protection behind the evaporator coil. The collection bag includes an eight-foot-long extendable drain orifice tube for accommodating unconventionally high evaporator coil locations. Also included is a five-gallon pail that doubles as a storage/carrier for collecting contaminants, as well as a gallon container of Desolv evaporator coil and blower cleaner.
In the past, service techs have not applied enough cleaning agent for thorough cleaning in fear of damaging surrounding property or have crude, time-consuming and less foolproof methods, such as duct-taping plastic garbage bags around the evaporator coil to protect walls and floors. The Desolv Cleaning Kit's hook-up and disassemble process requires less than a combined five minutes.
The kit includes the following components:
One gallon of patented Desolv coil cleaning agent
One five gallon collection/carrying pail
Collapsible framework with drawstrings for tightening around the evaporator encasement
Plastic splashguard to protect the wall behind the evaporator
Two funnel-shaped bags for collecting the cleaning agent in the pail
The kit is designed around RectorSeal's odorless Desolv, the HVAC industry's safest, non-caustic coil cleaning agent developed especially for mini-split systems in  healthcare, clean rooms, data centers and other sensitive environments. Desolv dislodges and dissolves dirt, biological contaminants, debris and films within minutes without harming the aluminum, copper and metal alloys of sensitive evaporator coil tubing, fins and the unit's plastic housing cover.
Other features of the kit are:
Replacement  bags are available in a 10-pack
Translucent bags allow visibility of descending liquids and particulates
Collapsible framework has an inner side gasket material to prevent scratching of mini-split exterior finishes
Available through all major HVAC wholesale distributors
The Desolv Cleaning Kit is a perfect complement to RectorSeal's full line of ductless mini-split installation accessories such as NoKink kink-free lineset connection; GasGuard and Novent locking caps for condenser refrigerant access valves; SlimDuct and Fortress lineset protection duct; ACTabs DMSS drain pan mold prevention; PairCoil pre-insulated linesets; Safe-T-Switch and AquaGuard condensate shut-off switches; Aspen Pumps condensate pumps and a variety of other accessories for condensate management and equipment mounting.
For additional information, visit www.rectorseal.com or call 800-231-3345.