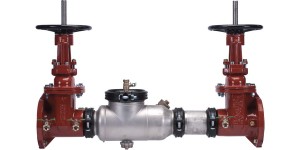 ERIE, Pa. — Zurn Industries, LLC announces the completion of its Zurn Wilkins  Stainless Steel Backflow Preventer Series with the addition of two new products: the 375ASTDAR Stainless Steel Replacement Reduced Pressure Detector Assembly, and the 350ASTDAR Stainless Steel Replacement Double Check Valve Assembly, both available in sizes from 2½-10 inches.
The Zurn Wilkins Stainless Steel backflow preventers are lightweight, corrosion-resistant, easier to install in small spaces and can be used in most existing low-pressure systems.
These two new models incorporate the Zurn Wilkins AR backflow option, ideal for drop-in replacement of an existing assembly. The AR option comprises custom-length, build-to-order assemblies – available in stainless steel or ductile iron bodies – with a turn-around time of just 48 hours within receipt of an order.
"We tell customers just to measure the existing valve's flange face-to-face dimension – then we will custom build a 300AR replacement that matches the current footprint," says Ezra Phillips, director of product management at Zurn Wilkins. "In addition, the 300AR series features a patent-pending shutoff tamper switch that is reinstalled without needing to modify the electrical wiring. Zurn is the only manufacturer to provide that capability."
One customer, Ben Bennett, owner of Backflow Prevention Specialists, Inc. of Sunnyvale, California, regularly relies on the Zurn Wilkins 300AR Series: "We choose the AR valves because the installation saves time, decreases downtime with water access and saves money in the long run for both our company and the business where the valve is being replaced."
Some of the models in the 300AST Series – such as the 375ASTBFG Stainless Steel Reduced Pressure Principle Assembly – feature another time- and money-saving innovation: butterfly flanged by grooved shut-offs, providing a seamless transition from flanged to grooved piping without the need for an adapter.
The Zurn Wilkins 300AST Series has complete line approval by the Foundation for Cross Connection Control and Hydraulic Research at the University of Southern California (USC Foundation). The 375ASTDAR Reduced Pressure Detector Assembly is designed for fire protection systems and incorporates a metered bypass to detect leaks and unauthorized water use.
Photo courtesy Zurn Industries, LLC.