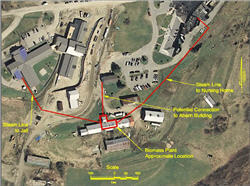 COOLIDGE, Ga. — To minimize reliance on foreign fossil fuels and to reduce carbon emissions, Sullivan County, New Hampshire's Facilities Director John Cressy, and his team, conducted extensive research into biomass fuel technology. After looking at almost two dozen plants, the county purchased a Hurst biomass boiler district heating system with a backpressure steam turbine/generator. The Hurst system will serve the county's 166-bed nursing home and 168-bed prison complex, as well as two smaller onsite buildings in Unity, New Hampshire.
"I ran into a competitor at the Northeast Biomass Conference two years ago and was shown some of his equipment," said Cressy. "We liked the concept and robust nature of the 'walking floor' so I specified it in our bid package. The equipment specified by the winning bidder turned out to be Hurst equipment.  I hadn't even heard of Hurst; but after learning what I did, I was delighted that they were central to our project."
The Biomass Combined Heat and Power District Energy System constructed at the Unity Complex is almost entirely fueled by locally sourced, renewable wood chips. Producing inexpensive heat and electricity for the over 215,000 square feet of conditioned space, the system has replaced 95 percent of fuel oil purchases and 10 percent electric purchases in the nursing home.
"Even though it's still a new system, I'm very pleased with the Hurst equipment," Cressy said. "It's robust, which is important in New Hampshire, as we put heating systems through a lot up here." At the equipment dedication ceremony in April, Jeff Barrette, chairman of the Sullivan County Commission, stated "It [the system] has been operating since December and has already saved us about $100,000. This will significantly lower our energy costs and create a net savings in the first year of operation." Sullivan County officials project the annual fuel savings will pay for the construction bond within fifteen years.
Authorized Hurst Boiler representative Bob Waller, and his company Thermal Systems Inc., coordinated and performed all specification and procurement services for the project. Waller and TSI oversaw the development of the equipment specifications, the equipment arrangement design and the procurement of the components necessary to meet the requirements of the county initiative.
To read the Hurst Boiler – Sullivan County, New Hampshire Biomass District Energy Project Case Study, visit http://www.hurstboiler.com/news/nh-energy-project-provides-benefits.
Hurst Boiler will exhibit at Booth # 1459 at the POWER-GEN International 2014 show at the Orange County Convention Center/ West Halls, in Orlando, Florida, Dec. 9-11. For exhibit information, visit http://www.hurstboiler.com/tradeshows.