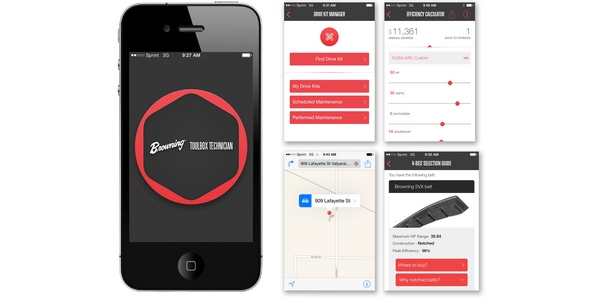 FLORENCE, Ky. — Browning introduces an upgrade to its popular Toolbox Technician mobile app with a new HVAC Drive Kit Management module, along with new content for the existing V-belt and bearing modules. Compatible with IOS 8+ and Android, the new version will be demonstrated in booth 5274 at the AHR show in Chicago, Illinois' McCormick Place, Jan. 26-28. It is available from iTunes and Android.
Developed for HVAC contractors, mechanics and building owners, the Drive Kit Manager module recognizes the OEM content for thousands of blower drives produced by major North American HVAC/R manufacturers every year. By scanning a QR code on the drive or inputting data from the Browning drive kit label on the unit, the user gains immediate access to product information, even without logging in. Registered users can save the information to a personal library as a maintenance record, email the data, set push notifications for system maintenance and add data on related components, such as bearings, filter and compressor.
"The Toolbox Technician app has been in wide use since its introduction at the 2013 AHR show, and these upgrades will make it an important asset off the job site, as well as on," said Ian Rubin, director of marketing for Sealmaster, System Plast and Browning mounted bearings at Power Transmission Solutions. "QR-code recognition of drive content, coupled with GPS-tagged locations and maintenance reminders, turns the app into an information management and scheduling tool. The goal is to improve the efficiency and profitability of the field service staff and reduce unplanned downtime for the customer. The upgrade adds other features requested by current users, such as a sheave interchange database. Bearing installation data is now cataloged by locking types for faster searches, and new installation tutorials have been added. We have also upgraded many of the popular modules in the new version, such as the belt-drive efficiency calculator, which now allows emailing of results. Building owners and facility managers can track drive assets in the same way, eliminating the need for logs stored in rooftop units."
The Toolbox Technician is an award-winning HVAC industry app. It covers belts and bearings commonly used in the industry, using simple drill-down text menus for navigation. It includes installation instructions, troubleshooting guides, best practices, a V-belt selection guide and belt tensioning instructions. The bearing section of the app includes bearing basics, installation tutorials, lubrication recommendations, bearing interchange information, etc. Other tools include a V-belt ID wizard, efficiency calculator, FAQ's, unit conversions, GPS-guided where-to-buy feature and more.
Browning offers other free mobile apps for drive efficiency calculation and product selection. These can be accessed here or through iTunes or Android websites.