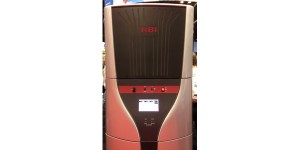 WESTFIELD, Mass. – Built for performance and longevity with symmetrical fire tube technology, boiler and water heater manufacturer RBI has brought a new high-efficiency fire tube boiler to market – the FlexCore 1.5.
Developed, designed and engineered by RBI from start to finish, the FlexCore 1.5 achieves 95.1 percent AHRI-certified efficiency and utilizes a precisely temperature-balanced flex core heat exchanger, which provides not only the highest efficiencies but also a durability beyond that of any competitive fire tube boiler on the market.
Mark Harrington, executive vice president of engineering at RBI, explained that maximum uniform heat transfer is obtained through the flex core heat exchanger's design.
"This balanced symmetrical design creates a single flex-core heat exchanger," he said. "In essence, the entire tube sheet can move as a piston; the upper tube sheet design is that of a diaphragm that absorbs the stresses from this piston-like motion. The result of this design is that water temperature differences up to 100 degrees can be accommodated with no detrimental effects."
Harrington added that the FlexCore 1.5 essentially 'scrubs' every last bit of heat out of the combustion gases, resulting in unparalleled efficiencies in a compact footprint while absorbing all expansion and contraction, with no stress on the tubes.
"The patented tubes are symmetrically arrayed around a center core, resulting in perfect temperature symmetry across the tubes and eliminating intratubular stress often found in other designs. "All fire tube boilers have the ends of the tubes attached to tube sheets," he added. "The issue is how to prevent stress in the tube sheets from causing fatigue and/or catastrophic failures; the life of the heat exchanger is directly related to these stresses."
Inside the symmetrical array, each tube has been formed in a patented shape that is compressed and dimpled, such that very high gas side film coefficients are created. This results in very high efficiencies in a compact design and allows condensate to easily flow out without any chance of pooling, ensuring low corrosive effects. Further, the water is introduced and removed from the heat exchanger in such a manner as to provide perfect temperature symmetry among the tubes.
"Thus, the temperature environment around any single tube, at any tube position, is the same for all tubes," said Harrington. "This results in all tubes expanding the same amount."
The FlexCore Fire Tube is ASME certified for water heating and space heating, and also features Cv =75: Enough pressure drop to allow easy balancing of multiple boilers; turbo pilot ignition, a proven reliable ignition system and a design geared toward ease of maintenance.