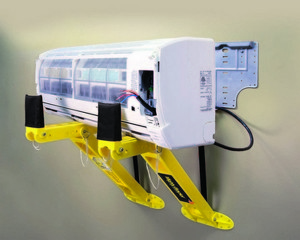 RectorSeal Corp. introduces the Mighty Bracket, the HVAC industry's first mini-split installation support tool. Mighty Bracket cuts jobsite labor costs by 50 percent because it reduces evaporator coil mounting and connecting to a hands-free, single-person task.
The contractor-grade yellow, patent-pending Mighty Bracket hooks onto both tabs of a mini-split wall mounting plate in less than a minute. The Mighty Bracket securely holds the mini-split evaporator coil for quick and easy connections of electrical, refrigeration line sets and condensate drain pumps/hoses. The 20-inch long support arms are roomy enough to allow evaporator coils to be temporarily angled away from the wall at 23-45 degrees for easy back panel access during installation or servicing.
Afterward, the heavy-duty, ABS-plastic reusable bracket needs no disassembly, but simply folds up for storage in a compact 28 by 6-inch black canvas tote bag.
The Mighty Bracket accommodates most mini-split brands and evaporator weights up to 100 pounds.
Other features include:
Soft gasket material on support feet and support arms protect wall surfaces and evaporator coil encasement finishes from scratches
Flip-up gates at the end of both support arms help to prevent slip off and damage to the evaporator or flooring below
Horizontal leveling of support arms is accomplished by sliding a cotter pin (included) into four adjustment hole selections;
Pays for itself in labor savings after just one installation
Four-color, fully illustrated glossy packaging box can easily be displayed on wholesaler end caps, shelves or counters
Rounded corners prevent worker injury from sharp edges
The Mighty Bracket is a perfect complement to RectorSeal's full line of ductless mini-split installation accessories such as NoKink kink-free lineset connection; RectorSeal condenser brackets and mounts; GasGuard and Novent locking caps for condenser refrigerant access valves; SlimDuct and Fortress lineset protection duct; ACTABS DMSS drain pan mold prevention tablets; PairCoil pre-insulated linesets; Safe-T-Switch and AquaGuard condensate shut-off switches; Aspen Pumps condensate pumps and a variety of other accessories for condensate management and equipment mounting.
For additional information, visit www.rectorseal.com or call 800-231-3345.