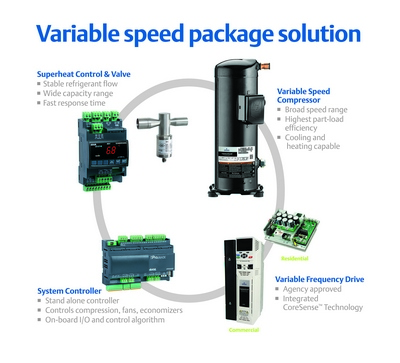 ST. LOUIS, Mo. — Emerson Climate Technologies, Inc. launched a new integrated solution for its commercial variable speed compressor line at the recent 2015 AHR Expo show in Chicago, Illinois.
The AHR booth featured the Copeland Scroll variable speed compressor line, along with products from key brands like Emerson, Dixell and Control Techniques. The robust offering includes the following:
Copeland Scroll variable speed compressor – 2014 AHR Expo product of the year, offering an expansive speed range and the highest part load efficiency in its class.
Variable frequency drive – optimized for the compressor, including customized parameter settings for quick and easy setup, along with integrated CoreSense technology.
Electronic expansion valve and controller – offers stable refrigerant flow measured precisely to the needs of the system, across a wide range of operating conditions with quick response time.
System controller – controls modulating cooling and heating stages, fans and economizers and interfaces with building control systems and peripherals.
"Our variable speed integrated solution offers significant energy savings and the highest levels of comfort and reliability for end users while streamlining system development time for manufacturers," said Bart Powelson, director of commercial marketing at Emerson Climate Technologies Air Conditioning Business. "With this offering of Emerson brands, the industry can leverage the latest variable speed compressor technology, along with efficiency, precise control, and the protection offered by our integrated solution."
To learn more, visit EmersonClimate.com or the check out its Copeland Scroll variable speed video at http://tinyurl.com/CopelandVS.