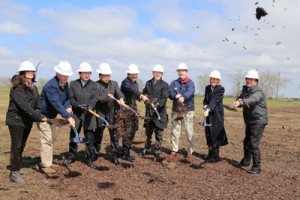 HOUSTON, Texas — Daikin Industries, Ltd. recently held its ground-breaking ceremony at the future location of its new, consolidated HVAC equipment engineering, manufacturing and logistics campus in Waller, Texas, northwest of Houston. Over the next several years, Daikin will be building a state-of-the-art campus that consolidates much of the current footprint from Daikin, Goodman and Amana brand operations in Texas and Tennessee, while adding expansion capacity to accommodate projected growth.
Operations that will be relocated to the new business campus include engineering, logistics, procurement, manufacturing and marketing. This consolidation directly reflects Daikin's global commitment to local, in-country manufacturing.
The new campus is projected to be operational mid-2016. When complete, it is where Daikin will manufacture the full range of energy-efficient ducted residential and light commercial products, as well as commercial VRV products currently imported from other inter-company business units located outside of North America.