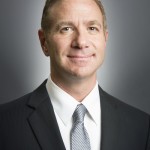 FORT WAYNE, Ind. — Scott Honegger was recently appointed to WaterFurnace International, Inc.'s commercial team as senior applications engineer for applied products. In his new position, Honegger is a dedicated customer resource, and will provide pre-sale guidance and technical support to the company's applied/commercial sales representatives and to its government and international sales channels.
"Scott is a welcome addition to the company, who brings with him a breadth of experience that will enhance the work of our sales force," said Jason Bose, vice president, product management and customer services, WaterFurnace International. "His knowledge of our company and its products is an added bonus that will enable him to more quickly integrate with other members of the commercial team."
Honegger comes to WaterFurnace from Lockheed Martin, where he worked as an energy efficiency sales engineer. His resume also includes previous experience at WaterFurnace in various commercial roles, including commercial applications, training and software. He earned a Bachelor of Science degree from Indiana Wesleyan University, Marion, Indiana, and is a certified energy manager.