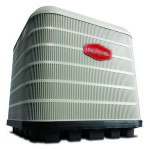 ST. LOUIS, Mo. — NuTone heating and cooling extends the iQ Drive product line to include a brand-new 20-SEER air conditioning model – the FS4BG. This new model is extremely efficient and quiet, and is available in 2-, 3-, 4- and 5-ton capacities.
The FS4BG includes an inverter-driven rotary compressor. This component allows the unit to modulate between 49 percent and 118 percent of capacity in five steps. This way, the unit is able to exactly meet the cooling demands of the home. Not only that, but this unit operates quietly – down to 59 dBA.
"Offering the iQ Drive product line can give contractors an edge," says Tim Alford, product manager at NuTone. "This new air conditioner is incredibly efficient and reliable."
Not only does this unit operate quietly and efficiently, but the new model features simplified installation and Micro-Channel coils. The unit is compatible with most two-stage thermostats and does not require a shielded thermostat cable. The Micro-Channel coil helps resist corrosion, optimize heat transfer and increase reliability.
In addition to the FS4BG, the iQ Drive product line also includes the FT4BG 19 SEER/10 HSPF heat pump and the R6GI 20 SEER/81% AFUE gas/electric packaged unit.
Contractors and distributors who would like more information about this brand-new, ultra-high efficiency air conditioner should visit www.nutonehvac.com or www.iqdrive.net.
NuTone heating and cooling products are only available at Noland and select Winair and Winnelson locations.