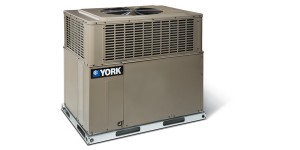 MILWAUKEE, Wis. — York LX Series packaged units by Johnson Controls set a higher standard to heat and cool residential and light commercial buildings, featuring a contractor-friendly design, easy installation and service, reliable technology and an advanced manufacturing process. The units are 29 percent more efficient, earning a 14 Seasonal Energy Efficiency Ratio rating and exceeding U.S. Department of Energy efficiency standards.
"Today's release is the result of more than 65,000 hours of customer research and product design and testing. This is York's first packaged product to follow our advanced engineering and manufacturing process," said Liz Haggerty, vice president and general manager, Johnson Controls Unitary Products Group. "From product design to installation and service, no opportunity to optimize efficiency for the contractor and their customer has been left out."
Watch behind-the-scenes video on the York LX Series customer research and advanced manufacturing process at https://www.youtube.com/watch?v=t651MU2YDPY.
The York LX Series packaged unit features:
Optimized heating and cooling solution for residential and light commercial buildings
Single-cabinet design versus previous three-cabinet model
Exact-fit gas/electric hookups and compact cabinet to fit most roof frames or slabs
Tested copper tube/aluminum fin condenser coils that combine an outstanding heat transfer rate with long-term reliability and corrosion resistance
Front and top access to the compressor, refrigeration controls and blower to enhance serviceability, as well as top access to the condenser fan and motor and side access to the compressor, coil, heat exchanger and filters
Slide-out evaporator coil for easier cleaning
Easier setup and operation with simplified control technology, including LED status lights to assist contractors
Tubular stainless steel gas heat exchanger with a lifetime limited warranty as standard
Stronger, easily removable base rails (use just two screws per corner) that improve installation
Single-stage compressor and single-stage gas heat
Extensive laboratory testing simulates more than 20 years of operational performance to verify component performance during weather events, humidity levels, under/over voltage and temperatures down to -10 degrees Fahrenheit. In addition, the cabinet's 1,000-hour salt spray rating ensures an exterior finish with a superior appearance and outstanding corrosion protection.
"Contractors will appreciate a standardized design that ensures performance and reliability, simplifies repairs and reduces the number of replacement parts they must carry in inventory and on service trucks," added Bryan Rocky, director of residential product management at Johnson Controls.
The 2-5 ton capacity units are currently available in cooling with gas heat configuration. Additional configurations, including cooling with electric heat, heat pumps with electric heat and heat pumps with gas heat, will be phased in over 2015.
To learn more about York LX Series packaged units, visit york.com/lxpack-unit or talk to your local York distributor. To locate a distributor near you, visit http://www.yorkhvacdealer.com/.
York products from Johnson Controls include energy-efficient, residential central air conditioners, heat pumps, furnaces and accessories, and innovative light-commercial, packaged heating and cooling systems marketed through a national distribution network and delivered to home and building owners through qualified York heating and cooling contractors. For more information about York, visit www.york.com.