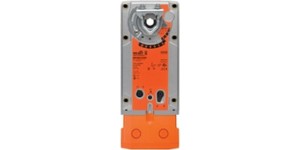 DANBURY, Conn. — Belimo Americas recently released the new EFCX series spring return damper actuators with a fast 10-second, fail-safe spring return speed and a high torque offering of 270 in-lbs [30 Nm], perfect for applications where maximum airflow must be achieved quickly, such as emergency generator combustion inlet dampers.
The EFCX series is provided with a NEMA 4 (UL Type 4 approved, IP66 rated) housing which meets tough environmental conditions for required applications. The actuator is shipped at +5 degrees rotation (5 degrees open from full fail-safe position) to provide automatic compression against damper gaskets for tight shutoff upon installation. The EFCX24-S N4 with supply voltage 24 VAC is offered with a 2015 list price of $1,275. The EFCX120-S N4 with supply voltage 120 VAC is offered with a 2015 list price of $1,378.
For further information, visit belimo.us.