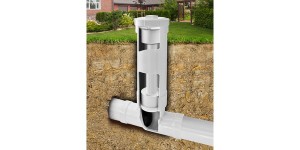 RectorSeal Corp. has redesigned its Clean Check extendable backwater valve product line's upper and lower collars that now accommodate both standard four-inch diameter or optional easier-to-handle lightweight two-inch-diameter PVC risers for preventing sewer back-ups into residential and light commercial buildings. The collar redesign also includes the new 75-PSI rated (at 177 feet of head) heavy-duty flapper, the highest flapper PSI in the plumbing, waste water and sewer industries.
The new patented "snap-in/pull-out" flapper can be installed and locked into the lower collar within seconds. The flapper/collar assembly, riser and upper collar are easily lowered into place and locked into the valve body and outer riser's slot channel with just a quick counter-clockwise, quarter-turn from ground level–making it the industry's easiest, safest to clean and install extendable backwater valve. The tight-sealing, plasticized PVC flapper is available for 3-, 4- and 6-inch-diameter sewer lines.
Older style flapper/collar assemblies that are worn or 15 PSI-rated can be retrofitted within minutes using the Clean Check Rebuild Kit, which includes the 75-PSI flapper/collar and upper collar. Contractors must supply a new two-inch or four-inch-diameter PVC inner riser.
The patented Clean Check, which prevents sewer backup into buildings caused by blockages, excess volume in a sewer system or ground flooding, is an IAPMO/UPC code-compliant, above-ground cleaning access port that supplants the need of expensive manhole sewer-access clean-out vaults.
The complete Clean Check system is available in PVC or ABS plastic and consists of the following components:
Tee-shaped valve body for connecting to an underground sewer line
Upper collar and a matching lower collar snap-in integrated flapper assembly that fits into the tee's bull via a contractor-supplied, custom-cut-length PVC inner riser pipe (contractors also provide a six-inch-diameter PVC outer riser for three or four-inch-diameter valve bodies and an eight-inch-diameter outer riser for six-inch-diameter valve
Clean Check is available through U.S. plumbing and heating trade wholesalers and is sold as single units or three-packs.
Other Clean Check features are:
Meets International Plumbing Code, International Residence Code, Uniform Plumbing Code, Canadian Standards Association, National Sanitation Foundation and other code authorities for preventing street sewer backwater flooding into buildings
Simplifies plumbing code-mandated annual checks of extended backwater valves and their flappers
Manufactured in-house under the strictest quality control at RectorSeal's Fall River, Massachusetts, state-of-the-art plastic extrusion and injection molding plant
First extendable backwater valve concept
Designed as a closed valve to meet U.S. plumbing requirements
Approved for outdoor use and eliminates problems of indoor basement sewer cleanouts that violate plumbing codes due to inaccessibility from floor covering overlays or furniture
Preferred extendable backwater valve of plumbing contractors and dozens of major municipality sewer/water departments across the U.S.
For additional information, visit www.rectorseal.com or call 800-231-3345.