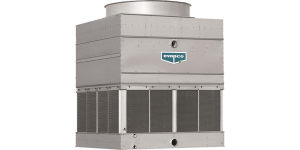 TANEYTOWN, Md. — EVAPCO, Inc. has expanded its Advanced Technology line of factory-assembled cooling towers with more than 200 new models, offering customers improved efficiency and a more complete range of selections. Featuring the same easy maintenance and durable construction that the AT line is known for, the new models offer an even more efficient design, with less energy consumption through decreased horsepower.
The AT Cooling Tower product line utilizes induced draft, counterflow technology that is well suited for operation in any climate. With a CTI-certified capacity range of 33 to 5,141 Nominal Tons and over 1,100 models to choose from, EVAPCO offers an AT Cooling Tower for every application. Standard construction consists of G-235 (Z 700 metric) galvanized steel with Type 304 or 316 stainless steel upgrades available.
Learn more about the AT Cooling Tower line from EVAPCO at www.EVAPCO.com.