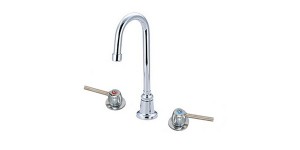 FRANKLIN Park, Ill. — Just Manufacturing recently introduced its CuVerro antimicrobial copper-nickel faucet handles. These faucet handles are an important part of a solution to mitigate the transmission of infections on touch surfaces in health care, schools, fitness, hospitality and numerous other public and private facilities. The innate ability of CuVerro  antimicrobial copper-nickel to kill microbes has profound implications and is a "Victory for Hands".
Modern plumbing fixtures that incorporate antimicrobial copper-nickel offer a passive system to protect the public, patients and healthcare workers from bacteria*. CuVerro antimicrobial copper-nickel kills bacteria 24/7.  It never washes away, it never wears out and natural tarnishing does not impair efficacy.
Just Manufacturing antimicrobial copper faucet handles can be combined with a wide variety of Just faucets, stainless steel sinks and antimicrobial copper-nickel sinks. Combined, these sinks, faucets and handles can make any environment more hygienic.
An excellent choice for healthcare lavatories, exam room sinks, academic environments including classrooms and laboratories, employee break rooms, restaurant and institutional kitchens is the Cu-1174-KS.
The CU-1774-KS has a cast brass body, featuring a rigid gooseneck spout with 7 3/8-inch clearance and a water-saving aerator. It is designed and built to last a lifetime with replaceable seat washers and replaceable reinforced packing. The solid CuVerro touch surfaces will maintain their antimicrobial properties throughout the lifetime of the faucet, and the spout's polished chrome plate finish will withstand years of use without pitting or discoloration.
The Cu-1174-KS conforms to ANSI standard 112.18.1 and is certified to NSF/ANSI 372.
*Laboratory testing shows that, when cleaned regularly, antimicrobial copper surfaces kill greater than 99.9 percent of the following bacteria within two hours of exposure: MRSA, VRE, Staphylococcus aureus, Enterobacter aerogenes, Pseudomonas aeruginosa and E. coli O157:H7. Antimicrobial copper surfaces are a supplement to and not a substitute for standard infection control practices and have been shown to reduce microbial contamination, but do not necessarily prevent cross contamination or infections; users must continue to follow all current infection control practices.