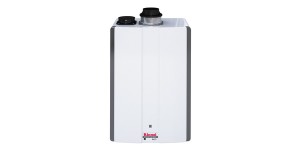 PEACHTREE CITY, Ga. – Rinnai introduces four new models – RUCS/RUS75 and RUCS/RUS65 for both indoor and outdoor applications – that expand its Ultra Series condensing line with mid- and lower-range maximum Btu units. These new models offer condensing efficiency and a lower price point for installations that don't require high Btu's, such as smaller single-family homes and multifamily residential projects.
"With the addition of these innovative new tankless water heaters, Rinnai now offers the most complete condensing lineup in the industry," said Joe Holliday, senior director of business and product development at Rinnai. "Additionally, these models are appropriate for both new construction and renovation projects, with options for indoor and outdoor installation."
Features of these new models include lower BTUs (160,000 Btu for RUCS/RUS75; 130,000 Btu for RUCS/RUS65), concentric/dual-pipe venting options and status monitor control, while delivering on Rinnai's standard endless supply of hot water, Energy Factor of up to .93, space savings and environmental benefits.
The RUCS75i/RUS75e and RUCS65i/RUS65i will be available for purchase through Rinnai wholesale distribution in August 2015.
For more information, visit: rinnai.us/water-heater/products.