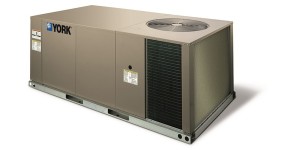 MILWAUKEE, Wis. — York Sunline packaged units from Johnson Controls now meet 2015 regional efficiency standards. The 3-5 ton 14 SEER units use the same footprint and curb as prior 3-5 ton packaged unit models and feature standard Simplicity SE Controls, making equipment easier to install, operate and service. In addition to an easy-to-read, built-in LCD display and standard temperature sensors, the controls provide wireless capabilities for startup, commissioning and monitoring.
Cabinet improvements include a full separation of high- and low-voltage wiring pathways to improve safety and quality and the relocation of electrical components for easier access and protection from the elements. The units, which meet UL 1995 requirements, also incorporate new low-leak economizers, along with factory-installed economizers, heat pumps and reheat units.
Other technologies new to select models include:
Variable frequency drives
Copeland two-stage compressors
High-efficiency motors
Sunline packaged units are available in electric/electric, gas/electric and heat pumps.
For more information, visit www.york.com.