ERIE, Pa. — As part of its "Stand Up for the Earth" initiative, Zurn Industries, LLC is launching a campaign to educate Californians about how much water they can save through the use of Zurn's acclaimed water-efficient products.
A website resource dedicated specifically for building owners, facility maintenance professionals, architects, engineers, regulators, municipalities and its own distribution partners addresses water efficiency and the numerous solutions Zurn offers to achieve the best results. For more information, visit www.zurn.com/standupfortheearth.
California is experiencing the worst drought in its history and, as of June 1the state is under an executive order to reduce water usage by 25 percent through February 2016 compared to 2013 usage.
Leading Zurn's roster of water-efficient solutions are: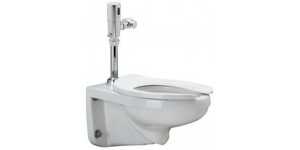 The Zurn EcoVantage 1.1 gpf ZTR Sensor Wall Bowl System (Z5615.395 and Z5615.396) requires 31 percent less water per flush than the U.S. Environmental Protection Agency current maximum standard of 1.6 gpf. The Zurn 1.1 gpf low-flow performance is also considerably better than the LEED baseline water savings of 20 percent for commercial buildings. The new Zurn low-flow system includes the Zurn Z5615-BWL wall bowl and the Zurn ZTR6200-ONE 1.1 gpf top mount sensor flush valve or the Zurn ZTR6200-ONE-LL 1.1 gpf top mount sensor flush valve with long-life battery.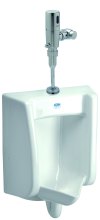 The Zurn Omni-Flo Urinal (Z5755-U and Z5765-U) accommodates multiple flow rates of 0.125 to 1.0 gpf, making it an excellent choice for new construction and retrofit applications. The Zurn Omni-Flo is WaterSense-listed when paired with the water efficient ZTR flush valve of 0.5 gpf or less.
Bill Gauley, P.E. and principal of Gauley Associates Ltd. in Ontario, Canada, recently said Zurn may have triggered a "watershed moment" for acceptance of low-flow toilets with the introduction of the Zurn High Efficiency Toilet and Carrier Paired Performance System for new construction applications in January 2015.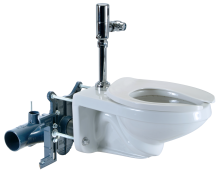 "Zurn's new carrier system is designed to reduce energy losses as water transitions from the bowl to the drain piping, resulting in a significantly longer waste carry distance than other systems," says Gauley, who visited a Zurn facility in March 2015 to observe a demonstration of the new Zurn HETC system. This clearly is a significant advancement for acceptance of low-flow systems."
Two decades ago, Gauley and a colleague co-developed the MaP (Maximum Performance) toilet testing methodology that is universally used in the industry around the world. Gauley is also a technical advisor to EPA's WaterSense program.