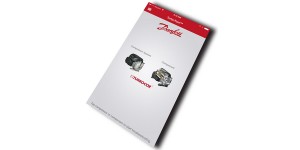 Danfoss Turbocor Compressors has launched its new TurboTool mobile app, designed to help simplify service of Danfoss Turbocor oil-free, variable speed, magnetic bearing centrifugal compressors in the field. By downloading the app to their mobile device, field service technicians can identify service needs, potential issues and remedies and prepare for necessary actions. The app provides instant, remote access to compressor troubleshooting and quick reference charts, and is available for iOS and Android devices.
The TurboTool app offers two methods of compressor troubleshooting: the exterior image of a Danfoss Turbocor compressor provides the user with information regarding system-level troubleshooting and a cutaway image of a Danfoss Turbocor compressor provides the user with component-level troubleshooting information.
Once users select the area in which they are interested, the app will take them to a page where they will be able to search for the symptoms being exhibited by the system or component. Once a symptom has been identified, it can then be selected to reveal the possible causes.
After selecting what they believe to be the relevant cause, the TurboTool app will provide a list of potential solutions, which will outline the procedures required to correct the exact symptom. Transition between the symptoms and solutions pages is simple to help technicians quickly diagnose and correct the problem.
For more information about Danfoss Turbocor Compressors, visit www.turbocor.danfoss.com. To download the TurboTool app, click here for Apple iOS format or click here for Android format.