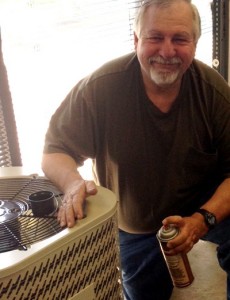 BRENHAM, Texas — QuestVapco announced that Ted Dashley of Kool Maintenance  is the June "Snap-a-Selfie" Photo Contest winner for the Midwest region. The "Snap-a-Selfie" Photo Contest is running in conjunction with summer HVAC repairs and service, encouraging contractors to take "selfie" photos while on a job site, along with their favorite QuestVapco product.
"Summer is the season for appreciating the work that HVAC contractors perform, particularly when they come to the rescue during hot summer days," states Scott Garner, HVAC division director at QuestVapco Corporation. "We thought this would be a fun and entertaining way to recognize the extra effort they contribute to keeping their customers and their indoor environments comfortable, safe and healthy."
Each month there is a winner of a $100 gift card in each participating region and a national grand prize winner of a $500 gift card for the most creative photo at the contest's conclusion. Selfie submissions can be submitted to selfie@questvapco.com until Aug. 31.
Visit www.QuestVapco.com/selfie.html for more information.