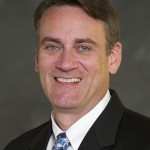 Jim Kapparos has been named president and CEO of THE TROX GROUP's Georgia-based, U.S. subsidiary, TROX USA, Inc.
Kapparos joins TROX USA from System Sensor, a division of Honeywell, where he recently served as director of sales during his 15-year career with the company. "We look forward to working with Jim to enhance our activities in North America and to strengthen our market position across multiple product categories," said Michael Bauer, CEO of TROX GmbH.
TROX USA, Inc., with offices and manufacturing facilities in Cumming, Georgia, provides innovative and energy-efficient heating, ventilating and air conditioning solutions for non-residential buildings, including offices, schools, hospitals, labs and performing arts facilities. The company's wide-range of HVAC products includes chilled beams, under-floor air distribution, airflow control, air diffusers, industrial dampers and displacement ventilation systems.