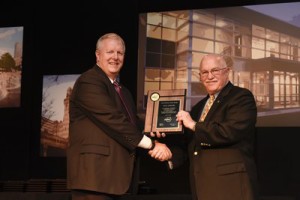 OVERLAND PARK, Kan. — Paul Lindahl, director of market development at SPX Cooling Technologies, Inc., received the 2015 ASHRAE Journal Paper Award on June 27 during the ASHRAE Annual Conference in Atlanta, Georgia. The award, based on the recommendation of the publications committee, recognizes the author of the best ASHRAE Journal article for the society year. Only one article is selected annually for this honor.
Lindahl's article, "Cold Weather Operation of Cooling Towers," was published in the March 2014 issue of ASHRAE Journal. The article addresses the cold weather operation of open circuit cooling towers associated with water-cooled chiller systems. The complete article is posted at www.ashrae.org.
An SPX Thermal Science Technical Paper developed from the original article may be accessed at http://spxcooling.com/library/detail/cold-weather-operation-of-cooling-towers.